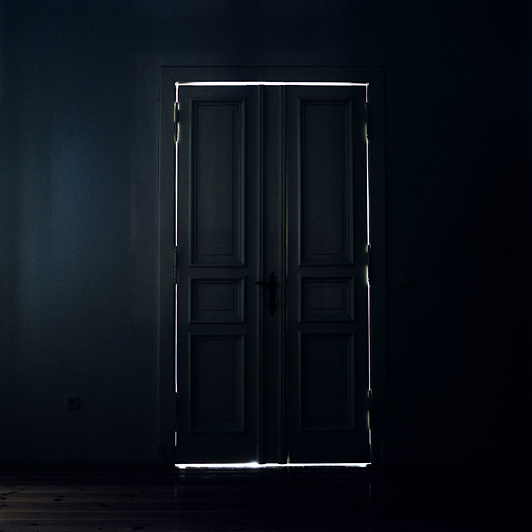 Christina Dimitriadis: Men & Women. 2005, Lambda print, 180x180 cm, edition 3

Galleri Tom Christoffersen is pleased to present Berlin-based, Greek-German artist, Christina Dimitriadis in her first solo show in Copenhagen. For this exhibition, the artist has carefully selected a group of some of the most important photographs that she has created over the last years, from 1996 to the present.

Dimitriadis uses the medium of photography to articulate a very personal expression of space; one that is often autobiographical and based on her close personal and family relationships. With these works, she continues her examination of the self, time and space, place and history, interpreting each of these subjects in her own particular way. Her images are a meditation on the quotidian reality of existence that poses questions about how we occupy our most intimate and familiar spaces.

For the most part, these works remain ambiguous, eschewing any straightforward reading or interpretation. Individual works, such as "the Trap" however, may be related to larger historical context. These cold, minimal images create a sense of poetic silence that is intimate, yet they do not allow for the proposal of any specific personal narrative. These concise and elegantly articulated photographs always keep the viewer at arm's length, maintaining an underlying impenetrability and crystal clear beauty throughout.

Christina Dimitriadis is born in Greece (1967) and lives and works in Berlin. She is trained in New York at the Parsons School of Design and New School for Social Research (graduated 1992) and from F.V.A (graduated 1993). Of previous exhibitions can be mentioned: Dystopia, (solo) Kanazawa Citizen's Art Center, Kanazawa (2006). Open Closed Doors, (solo) Eigen+Art Gallery, Berlin (1997), Transexperiences, 798 SPACE, Beijing (2008), Neue Heimat- Contemporary Art in Berlin, Internationale Kunst im Neuen Berlin, Berlinische Galerie, (2007), Wir Haben keine Probleme. Kunsthall Bergen (2007) Turbulance, 3rd Auckland Triennial, Auckland, (2007), The Passion and The Wave , 6th International Istanbul Biennial, (1999),La Casa, Il Corpo, Il Cuore, Museum Moderne Kunst Stiftung Ludwig, Vienna, (1999), Greek Realities, Kunsthallen Brandts, Odense (1997).
Christina Dimitriadis is represented by Curators Without Borders, Berlin.


Works from the exhibition