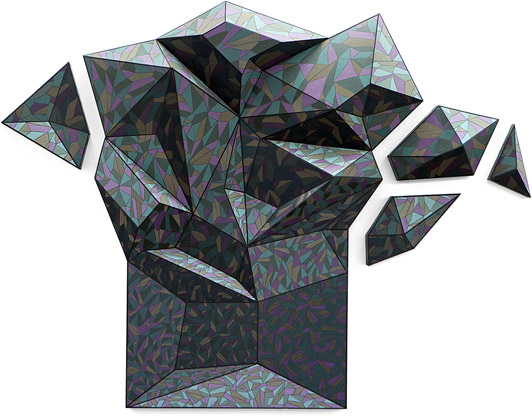 Krista Rosenkilde: Uden titel. 2010, olie og akryl på mdf, 180x230 cm

Krista Rosenkilde's solo exhibition NOT SO SQUARE folds spaces, plays the surface and oscillates between painting and object. This is Krista Rosenkilde's first solo exhibition and the new paintings are presented at Galleri Tom Christoffersen.

Optical illusion, perspective and the possible spatial relations of painting are investigated. The paintings have many edges, which protrudes from the wall into geometrical shapes – a physicality, which is both visually supported and sometimes negated by how these objects are decorated.

The paintings contain exact painted patterns; systematically repeated motives that could continue infinitely. Instead, the varied patterns are presented in clearly defined and juxtaposed areas and turned into compositions, which create puzzling exchanges between the various planes of the painting and the space of the viewer.

The possibilities of paintings optical illusion and Krista Rosenkilde's interest in the decorative and the intensities of the ornament are central in the tactile and mostly abstract paintings.



Krista Rosenkilde (1982) graduated from the Royal Danish Academy Of Fine Arts in 2009. She has participated in group exhibitions such as: "Everyday Life", Galleri Tom Christoffersen, Cph. (2008). "Botaniske Forvandlinger", Vejle Kunstmuseum, Vejle (2008) and "The Rehersal Dinner", Galleri Mikael Andersen, Cph. In 2009 Københavns Billedkunstudvalg purchased Krista Rosenkildes graduation painting and in 2008 the Danish Arts Foundation purchased the painting "Skeleton". Back in 2005 Krista Rosenkilde co-founded the temporary and artist run exhibitions space "Første til Venstre".




works