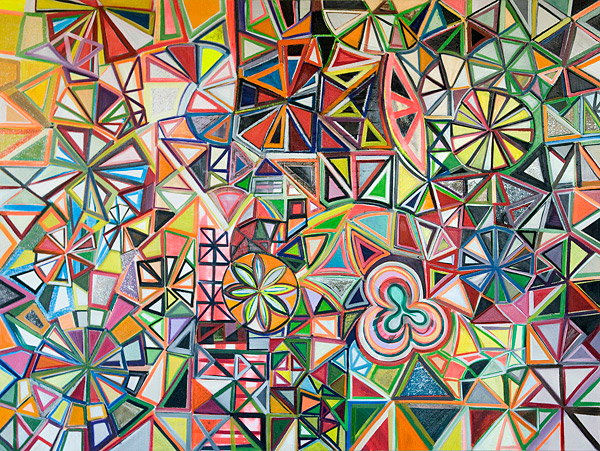 Anna Sørensen: U.T. 2009, oil and acrylic on canvas, 180x250 cm

With the exhibition DAISY DIAMOND, Anna Sørensen once again fills the walls of Gallery Tom Christoffersen. In her new paintings, the artist continues her wrestle with the abstract colouristic mode which has resulted in a series of dynamic, intense and inviting paintings.

Colours and forms again play the leading roles on the big canvases, while there is an increased concentration in the still more complex compositions. The paintings are constructed in a democratic order with encounter as the central focus – the meeting between lines, forms and colours. Space is suspended and everything is drawn forward in balanced, lyrical compositions, where you seem to find yourself in either an aerial view or with the detail close up in a sort of mechanical structure. The striking colour range in the paintings creates an enchanting harmony, in which dark and heavy 70s' tones are safely mixed with fluorescent 80s' neon.

Anna Sørensen's paintings are like frozen moments, where a controlled chaos of organic and geometric forms are held together by the square shape of the canvas. If you were to shake them, one could imagine the painting's elements being pushed around between one another in order to melt into a new whole and fall into a new shape. Anna Sørensen keeps her art in play and creates paintings in a serial process – every new painting is created by the pillars of a visual vocabulary that seems to come from a kaleidoscope run wild.

Anna Sørensen (born 1968) graduated from the Royal Academy of Fine Arts in 1996 and has been at Gallery Tom Christensen since 2002. DAISY DIAMOND is her fourth solo exhibition at the gallery. Anna Sørensen has participated in several group exhibitions and last year also had the solo exhibition COLOUR GROOVE at Holstebro Kunstmuseum. She lives and works in Copenhagen.


Selected works from the exhibition