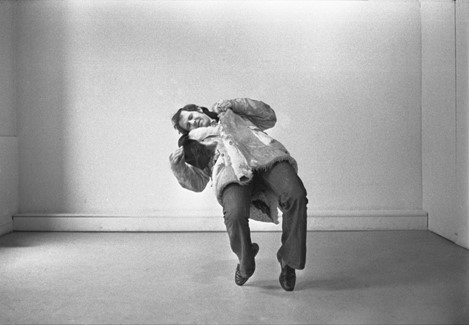 Stig Brøgger: Shooting (detail), 1969, 18 b/w photographs
Shooting - Shoot
Stig Brøgger & Chris Burden
12.8 - 9.9.2017
Opening: 11.08.2017 - kl. 17-19

I Stig Brøggers værk Shooting fra 1969 blev en fotograf hyret til at tage en serie billeder af kunstneren, som falder til jorden i et tomt gallerirum i København. Værkets 18 s/h fotografier var senere udstillet i det samme gallerirum, som de blev taget. Shooting er en legende undersøgelse af kunstnerens rolle og dennes mulighed for at outsource dele af den kreative proces. Som i andre værker af Brøgger fra samme periode, bliver nye systemer for produktion og reproduktion testet af. Med kunstneren iscenesat i rollen som offer for et løsskydende kamera og fotografen som den hyrede lejemorder, ekkoer Shooting utallige scener fra populære krimifilm. Samtidig afbilder hvert fotografi kun en fraktion af den samlede handling og tankerne kan ledes hen på Étienne-Jules Marey og Eadweard Muybrigdes tidlige bevægelsesstudier, der også historisk var fotografiets og våbenteknologiens første møde. Shooting spiller med forestillinger om fotografi, virkelighed, tid og død.
En lille men signifikant gruppe af værker i kunsthistorien baserer sig på skydningen, fra Goya til Manet til Robert Capa og, senere hen, Chris Burden. To år efter Stig Brøggers Shooting, skabte Chris Burden netop sit kontroversielle værk, Shoot, hvor kunstneren bliver skudt i armen af sin assistent. Chris Burden udtaler selv: "In this instance I was a sculpture." Chris Burden mener her det øjeblik, hvor hans arm blev gennemboret af en kugle fra en .22 riffel. Faktisk var intentionen blot at strejfe kunstnerens arm, da aftrækkeren, med en distance på knap 4 meter, blev trykket d. 19. november 1971. Shoot blev betragtet som en af sin tids mest spektakulære performances. Det kontroversielle i Shoot var næret af fantasien og frygten i forbindelse med skydning og skudsår. Og med eskaleringen af Vietnamkrigen, var tematikken forankret som realitet i amerikanernes bevidsthed, og ikke længere blot som ren fiktion, hvilket havde en stor indflydelse på dristigheden i Burdens eksperimentelle værk. 


Stig Brøgger (1941) var en del af den københavnske Eks-skole fra 1964-66 og har udstillet på Louisiana, Statens Museum for Kunst, Brandts, og i udlandet på Venedig Biennalen (1971), på Moma, NY på udstillingen Information (1970), på Wiener Sezession, Wien, Moderna museet i Stockholm osv. Fra 1981-97 var han professor på Det Kongelige Danske Kunstakademi.
Stig Brøgger repræsenteres af Galleri Susanne Ottesen, København.


Chris Burden (1946-2015) tog sin B.F.A. i 1969 fra Pomona College, Californien, og sin M.F.A. i 1971 fra University of California. Han var den første kunstner til at blive repræsenteret af Larry Gagosian i 1978. Han har udstillet på LACMA, Los Angeles, New Museum, New York og Museum Moderner Kunst Stiftung Ludwig, Wien, m.fl. Hans værker er del af samlingerne på bl.a. Whitney Museum of American Art, New York, MoMA, New York samt Tate Gallery, London.
Chris Burden repræsenteres af Gagosian Gallery.