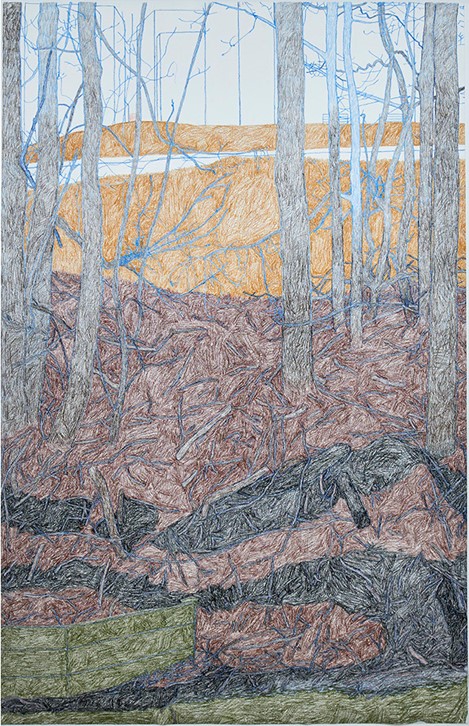 Thomas Klein: Udsigt fra mudderet (View from the Mud), 2020, farvekridt på papir, 200 x 130 cm. Foto: Kirstine Mengel.
Local Guide
Thomas Klein
22.10 - 13.11.2021
Opening: 22.10.2021 - kl. 17-19
Udstillingen Local Guide viser en serie af stemningsfyldte landskabstegninger af grønne områder, tegnet med et væld af streger og detaljer. 
Kunstneren har udvalgt og tegnet offentlige steder i sit lokalområde i Odense, såsom udkanten af en skov med vildtvoksende græs, en fodboldbane i et boligkvarter, og en æstetisk park krydset af stier.
Gennem et personligt og poetisk blik på stederne stiller værkerne spørgsmålstegn ved naturens rolle i byen, grænsen mellem det fælles og det private, og de offentlige rums status.
Thomas Klein (f. 1993) er uddannet fra Det Fynske Kunstakademi i 2021.
English 
The exhibition Local Guide shows a series of atmospheric landscape drawings depicting green spaces, drawn with an abundance of lines and details.
The artist has selected and drawn local public spaces near his home in Odense, such as the edge of a forest with grass growing wild, a football field in a residential area, and an aesthetically pleasing park crossed by paths. 
Through a personal and poetic sensibility the works question things like the role of nature in the city, the line between common and private, and the status of public spaces.
Thomas Klein (b. 1993) graduated from the Funen Art Academy in 2021.