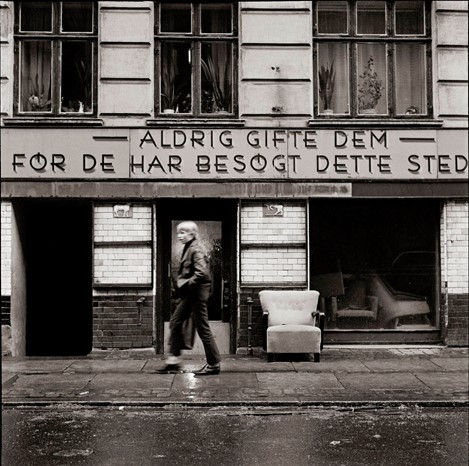 Susanne Mertz: Oehlenschlægersgade.1970, photographic print on Hahnemuhle paper, 38 x 38 cm
Susanne Mertz
Bysbarn
15.8 - 19.9.2015
Opening: 14.08. 2015, 5-8pm

Text in English below
I 1969 skulle jeg fotografere en række huse ude på Christianshavn for Flemming Quist Møller, til en film om narko. Jeg fotograferede husene rundt omkring i gaderne, og blev betaget af butiksfacaderne. De fleste af dem var gamle og nogle var lettere faldefærdige, men med meget intakte og fine små butikker. De bar præg af de mennesker der havde dem og havde hver især et helt særligt udseende. Jeg blev optaget af måden tingene var udstillet på, skiltene i vinduerne, hvilket signal de sendte og denne opgave fik mig i gang med at fotografere rundt om i byen.
Et billede er taget ude på Vesterbro af en forretning med brugte møbler. Over vinduesudstillingen med lænestole og divaner, hang der et skilt hvorpå der stod: " Aldrig gifte Dem før de har besøgt dette sted ". Nogle år senere kom forfatteren Dan Turell forbi og undrede sig over at se en forretning med en tekst, hvoraf nu sidste linje manglede, så der kun stod: " Aldrig gifte Dem" henover et tomt vindue. Det skrev han så en lille klumme om i Politiken. Jeg svarede ham med et brev og fotografi fra dengang og løste gåden for ham. Han sendte så en bog til mig, hvor der i dedikationen stod:

Kære Susanne
Tak for dit billede!
Skønt at få svar på
de spørgsmål man stillede...
                                                    Dan
Susanne Mertz, 2015


Igennem snart et halvt århundrede har Susanne Mertz fotograferet Københavns gader og facader. Udstillingen viser et stort udsnit af hendes altid uprætentiøse by-scener, der står skarpt komponerede som præcise angivelser for vores erindringers slørede tidslinjer. På demokratisk vis spiller elementerne i fotografierne sammen til ærlige pejlemærker i byen med dens bygninger og mennesker, med de daglige rutiner eller de overraskende optrin. Den meterhøje fotostat af Trikotage, St. Strandstræde vil indgå i udstillingen, den blev første gang vist på Kvindeudstillingen "XX" på Charlottenborg 1975.

Susanne Mertz (1946) blev udlært hos fotograf hos Rigmor Mydtskov og Steen Rønne, 1967. Hun har undervist i fotografi på Krogerup Højskole, 1977-80, på Det Kgl Danske Kunstakademi, København 1980-95 og var medstifter af Billedhuset i 1984. Hun er særlig kendt for sine portrætter, sine koncertfotos, bybilleder og som stillfotograf på film og teater. Hun har flere udstillinger bag sig og udgivet flere bøger med sine fotografier.

-

In 1969, I had to photograph a number of houses in Christianshavn for filmmaker Flemming Quist Møller, for a film about drugs. I photographed the houses around in the streets, and was captivated by shop facades. Most of them were old and some were slightly dilapidated but yet still with much intact and fine shops. They were characterized by the people who ran them, and each had a special appearance. I was taken by the way things were exhibited, the signs in the windows and what they said. This assignment got me started photographing around the city.
One photograph is taken out in Vesterbro; the storefront of a business with used furniture. Above the window display with armchairs and couches, hung a sign that read: "Never marry before visiting this place." Some years later the author Dan Turell passed by and wondered seeing a sign with a text, where the last line now was missing, leaving only: "Never marry". He wrote a short column about it in the newspaper. I answered him with a letter and photograph from that time and solved the riddle for him. He then sent a book to me, where the dedication read:
Dear Susanne
Thanks for your photograph!
Lovely to get answers to
the questions one asked...
                                                     Dan
 Susanne Mertz, 2015
For almost half a century, Susanne Mertz has photographed Copenhagen's streets and facades. The exhibition shows a large selection of her always, unpretentious urban scenes that are perfectly composed as precise indications for our memories blurred timelines. In a democratically play between the photographs elements they become honest pointers in the city with its buildings and people, with the daily routines or the surprising sceneries. The large format photo "Tricotage", St. Strandstræde will be included in the exhibition, it was first shown at the Women's Exhibition "XX" at Charlottenborg, 1975.


Susanne Mertz (1946) is trained as a photographer with Rigmor Mydtskov and Steen Ronne, 1967. She has taught photography at Krogerup Folk High School 1977-80, at the Royal Danish Academy of Fine Arts, Copenhagen 1980-95 and was co-founder of Billedhuset in 1984. She is particularly known for her portraits, her concert photos, city-scapes and as a still photographer on film and theater. She has had numerous exhibitions and published several books of her photographs.