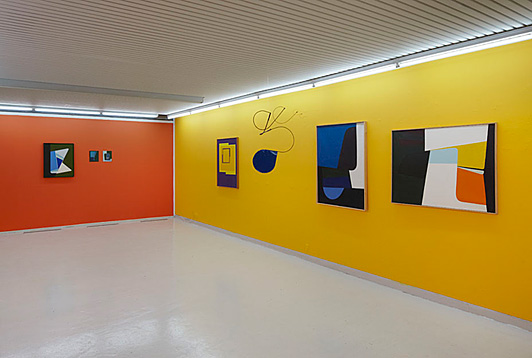 Geertsen - In Triple Time, 2009. Installationsview

In memory of Ib Geertsen Galleri Tom Christoffersen presents the exhibition GEERTSEN - IN TRIPLE TIME.

Ib Geertsen past away this year on the same day his solo exhibition opened at ARoS, Aarhus Kunstmuseum. Ib Geertsen lived for 90 years and has been significant in Danish art since the 1940ties till today. In his later years Geertsen saw how the younger generations became interested in his work on space and time and his special ability to integrate his art in a broader perspective – to make art with a certain social strength.

We believe that it is in Ib Geertsen's spirit not to show a traditional commemorative exhibition, but instead to hand over the saying to a representative from the younger generation. Artist Christian Vind has been given this challenge, to approach the comprehensive production of Ib Geertsen in order to conduct a careful selection and installing of mobiles, paintings and various objects, which adds another dimension to the widely known works by the great modernist.

GEERTSEN - IN TRIPLE TIME is both a concrete and abstract Geertsen embrace.

Galleri Tom Christoffersen would like to thank Christian Vind for the dedicated collaboration on the exhibition and Birthe Geertsen for her help and hospitality. Spejderrobot has kindly provided the exhibition soundtrack.

Ib Geertsen (1919 - 2009). Exhibitions (selected): 2009 Aros – Aarhus Kunstmuseum, Aarhus , Galleri Tom Christoffersen, Cph. 2004 Maison du Danemark, Paris (France). 2003 Art Centre Silkeborg Bad, Silkeborg, Nikolaj, Copenhagen Contemporary Art Center, Cph. Blaa farveværket, (Norway). 2001 Esbjerg Art Museum, Esbjerg. 1999 Painting and sculpture 1960-98). Randers Kunstmuseum, Randers.1998-99 Artmuseum of Vestsjaelland. Sorø. 1992 (SMK) The Danish National Gallery. Cph. In 1947 he was one of the founders of the artist group Linien II. Geertsen's work is represented in several museums among others Statens Museum for Kunst og ARoS-Aarhus Kunstmuseum and he has done lots of commissions and public art. Ib Geertsen has received the Royal Danish Academy' finest honours Thorvaldsen Medaillen (1991) and Eckersberg Medaillen (1978).
For more information on Ib Geertsen please consult his profile here.


Selected works from the exhibition