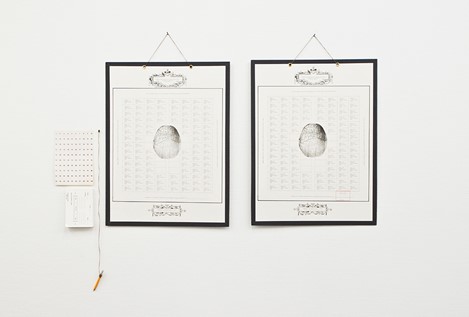 Break Through in Grey Room
– Henrik Haves omstillingsbord, kunstnerbøger & korrespondancer
Curated by Mathias Kokholm, Antipyrine
21.10 - 19.11.2016
Konstant udskrift af tvangstanker, løsslupne
mutationer fra et laboratorium, hvis ritualer
perforeres af heraldiske amuletter i byge.
Monologen er sprængt uden at den er blevet dialog.
Atmosfæren er truende, selv om de hele tiden desperat
refererer. Hvad er det, der er eksploderet  ?
Hvad har fået eksplosionen til at ske  ?
– William S. Malevich (1986)


Forlaget Antipyrine har tilrettelagt en udstilling med materiale fra forlaget Edition After Hands (1973-2014) arkiv og boglignende værker af forlagets stifter digteren og kunstneren Henrik Have (1946-2014). Materialet på udstillingen er primært fra forlagets affyring i starten af 70'erne, iscenesat som en korrespondance med Henrik Haves kollegaer.
Edition After Hand blev stiftet ud fra et behov om at gå imod officialismen, politisk såvel som kunstnerisk. Forlaget ville udgive bøger og objekter der ikke lod sig tilpasse de eksisterende kredsløb for kunst og litteratur, for gennem kraftige sproglige udtryk at modarbejde offentlighedens endimensionalitet og kontrol.
Henrik Have bosatte sig i begyndelsen af 70'erne i provinsen, hvorfra hans korrespondancer med kollegaer og bevægelser blev holdt. Således udvikledes og produceredes værker systemisk og kollaborativt gennem korrespondancer og partiturer med kollegaer som Dan Turell og Peter Laugesen, bevægelser som mail art, fluxus og art & language.    
Det blev bestræbt at anvende nye kommunikationsformer og teknologier, som medproducerende og bevidstgørende indstillinger i de sproglige værker. Særligt det bevidstgørende element spiller ind i de udvalgte værker, der har karakter af instrumenter til udmåling af magtkoncentrationer og patologier. Kortlægninger som skulle kunne forenes i en psykisk og social revolution, hvor kulturen skulle præge omgivelsernes måde at tænke på. En art magisk aktivisme i tråd med den amerikanske forfatter William S. Burroughs idéer om kontrol og virus, hvor båndoptageren og cut-up eksperimentet var redskaber til at mane en anden verden frem.
Udstillingen er tilrettelagt af forlaget Antipyrines redaktør Mathias Kokholm og er støttet af Statens Kunstfond. 
Henrik Have (1946-2014) arbejdede siden slutningen af 60'erne konsekvent med bogen som objekt, installation, matrice og maskine. I 1973 etablerer han forlaget Edition After Hand, som en kunstnerdrevet situation, der arbejder med bøger og objekter. Forinden havde Have bruget betegnelsen After hand som titel og begreb i en række bogobjekter, der bedst kan beskrives som situationistiske bogmiljøer og aktionsromaner. Objekter og installationer udfoldet fra poser, kufferter og æsker, der danner kartografier og partiturer med lingvistiske strukturer og koncepter oftest omhandlende billedpolitik, antipsykiatri, system- og kapitalismekritik. Der findes værker af Henrik Have hos bl.a. ARoS Aarhus Kunstmuseum, Museet for Samtidskunst, Museum Jorn, KUNSTEN Alborg Kunstmuseum og Statens Museum for Kunst.