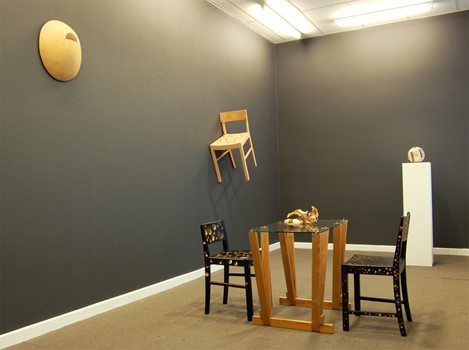 Á La Chair
by Mette Ussing
25.11 - 23.12.2016

Mette Ussing explores the concept "chair" - between an object to sit on and as a "useless" sculpture. She exhibited her first "useless chair" as a sculpture, awarded at Charlottenborgs Efterårsudstilling in 1968, and has since then been circulating around the topic.
The exhibition is an installation including 3-dimensional sculptural pictures in wood. As any explanation is left our, the objects expresses themselves as "Zen" objects.
-
Mette Ussing undersøger, hvordan begrebet stol kan bruges som objekt at sidde på eller "ubrugelig" som skulptur. Hun har i mange år kredset om emnet, siden hun udstillede sin første "ubrugelige stol" som skulptur, præmieret på Charlottenborgs Efterårsudstilling 1968.
Denne udstilling er en installation, med inkluderende 3-dimensionale skulpturelle billeder i træ, som uden forklaring udtrykker sig selv, som "Zen" objekter.