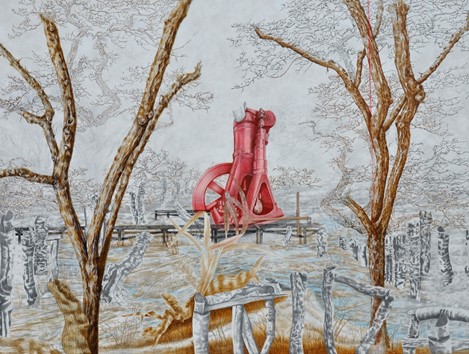 Berit Heggenhougen-Jensen: Skitse. Faderens Navn: Aage Poul Møller og Joseph Hyppolite-Koch. Industrihistorie. B&Ws Dieselmotor n°1, 2018, Charcoal, oil stick, threads, cardboard, and acrylic on canvas, 177 x 231 cm. Photo: Nils Erik Højbye
Anette Abrahamsson, Berit Heggenhougen-Jensen & Nina Sten-Knudsen
21.8 - 26.9.2020
Opening: 21.08 2020 - kl. 17-19
Det er mere end fyrre år siden, at Danmarks første punkband Sods debuterede på Rødovre Statsskole (kl. 9.55, 24. nov. 1977) og lagde sig i sporet på The Clash, Sex Pistols og Suicide. Det var året efter, i 1978, at F.P. Jac, Michael Strunge og Henrik S. Holck debuterede, og i 1981 at Pia Tafdrup debuterede med Når der går hul på en engel. Der blev lyttet til David Bowie, Lou Reed, Sex Pistols og i Daddy's Dance Hall Patti Smith, men det var Sods, der blev organet, der samlede både malere og digtere i et fælles larmende inferno. 
 
Hvis man læste tidskriftet Sidegaden, lærte man de nye digtere og kunstretninger at kende. I nr. 1 fra 1981 kunne man læse Strunges fuldstændig fantastiske anmeldelse af Søren Ulrik Thomsens City Slang, der havde forsidebillede af Nina Sten-Knudsen. På nogle ganske få år satte Punken sine metalstempler ind og påvirkede alt, der var i virkelig bevægelse. Maleriet var i bevægelse. Sidst i halvfjerdserne havde italienerne Transavantgarden og amerikanerne New Image Painting. Maleriet var på vej tilbage.
Men i Danmark var det langt mere Berlin, og ikke mindst Køln, der skabte en ny bevægelse i kunsten. Køln-stilen var ironi og en ny horisontalitet. Det var med udstillingen i Aachen i 1980, at bevægelsen fik sit navn. Med ironisk distance kaldtes den Les Nouveaux Fauves. Die Neuen Wilden.
I foråret 1982 kom så udstillingen Kniven på hovedet på Tranegården, Gentofte Bibliotek. Med afsæt i punkbølgen og en form for aftapning af dens budskaber ironiserede man over institutionen, og udstillingen blev vel også et forsøg på at afslutte kunsthistorien. Fanerne blev holdt højt. Pilgrimsrejse i sommeren 1982 til Documenta 7 i Kassel og i efteråret til Berlin og Zeitgeist-udstillingen. Utrolige mængder energi – som om verden begyndte helt forfra.
 
At se tilbage på historien, og forstå nutiden igennem den, har fra begyndelsen været en del af galleriets DNA. 1980er-generationen har hele tiden haft galleristens interesse. Flere af digterne hører til mine helte. Flere af malerne er mine venner. 
 
I år udstiller kunstmessen CHART udelukkende kunstnere, der også er kvinder. Og galleristen observerer, at ingen af de fire kunstnere, Anette Abrahamsson, Berit Heggenhougen-Jensen, Dorte Dahlin og Nina Sten-Knudsen, der alle deltog på den legendariske udstilling på Tranegården i 1982, er del af gallerierne, der udstiller på CHART. Senere går det op for ham, at de heller ikke er del af gallerierne, der udstiller på ENTER Art Fair, der foregår sideløbende med CHART. Og senere endnu ser han, at de heller ikke er inkluderede på Statens Museum for Kunsts nye erhvervelsesliste generøst støttet af Ny Carlsbergfondet. 
Galleristen ringer derfor til Anette Abrahamsson, Berit Heggenhougen-Jensen og Nina Sten-Knudsen og inviterer dem til at udstille i galleriet. Meget gerne i en periode, der kolliderer med de to kunstmesser i København. Kunstnerne har selv udvalgt malerierne, mens galleriet står for ophængningen og presseteksten. 
Udstillingen kan muligvis forstås som en kritik af gallerierne, der ikke har samarbejdet nok med nogle af de væsentligste kunstnere, der brød igennem i 1980erne. I så fald må galleristen starte med at se på sig selv og sin egen liste over repræsenterede kunstnere, inden han kritiserer andre. 
Udstillingen er mere end blot kritik. Den er udtryk for en åben nysgerrighed over for maleriet og dets forskellige kvaliteter. Den er udsprunget af en interesse i at se samtidsmaleri skabt af kunstnere, der fandt fodfæste i 1980ernes maleriske nybrud. Og den er opstået i et ønske om at sætte fokus på nogle af de kunstnere, der ikke er vidt udbredte i de særlige messedage.   
 
Ingen af de tre udstillere har foreslået udstillingen, men de sagde alligevel ja tak til invitationen. Tak for tilliden. 
 
- Tom Christoffersen, København, august 2020.