Doing Time / Critical Mass
2017 November
Fængslet skal afløse Vridsløselille, der nu er nedlagt, fordi det var for utidssvarende. Figurgruppen er det første man møder, når man træder ind ad fængselsporten i det nye fængsel.
Gruppen består af 1:1 portrætter af følgende fem kunstnere: Peter Bonde, Christian Finne, Jon Stahn, Morten Søkilde og Claus Carstensen selv, ikke ulig dem Carstensen lavede til Panum Instituttet i 2005. Det nye i teknikken er dog, at de alle først er printet i akryl i 3D i stedet for støbt i gips. Det giver mulighed for mere dynamik at i kropsholdningen, da man ikke skal stå model til en gipsafstøbning i flere dage, men kan klare selve scanningen på en halv time. Det er dog det mindste arbejde, da der efterfølgende så skal bearbejdes data på ca. 10 gigabyte pr. figur. Og det har taget omkring et år.
Tanken er, at de også burde stå uden for fængslet et sted i det offentlige rum, så titlen kommer til sin ret. Ideen er derfor, at figurgruppen i fængslet hedder DOING TIME, da alt i et fængsel handler om frataget og fremmedbestemt tid. Og at den uden for fængslet i en kritisk offentlighed ville hedder CRITICAL MASS. Altså samme figurgruppe med to forskellige titler – for i Foucault'sk forstand at pege på begreber som overvågning og straf,  viden/ikke-viden, kritik/affirmation osv. Tanken er lidt den, at man i totalitære stater forbyder menneskeansamlinger, fordi de altid udgør en potentiel dissidens/fare for systemet. Og her defineres den kritiske masse ofte som en ansamling på fem eller flere mennesker. Mens vi i de vestlige demokratier jo stadig bryster os af at have forsamlingsfrihed, hvor borgerne forventes at danne sig til kritiske individer/borgere/medborgere. Kunst og kritik som en res publica.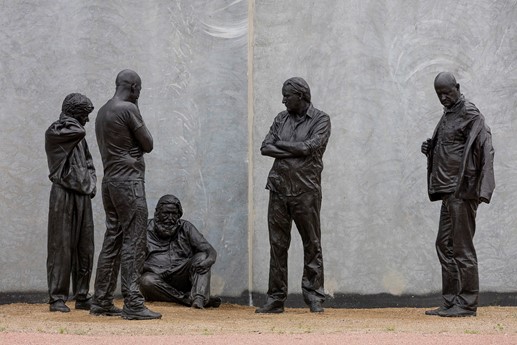 Doing Time / Critical Mass, 2017, Bronze, approx. 190 x 200 x 400 cm. Commissioned work for the high security prison Storstrøm Fængsel. Photo: Anders Sune Berg.