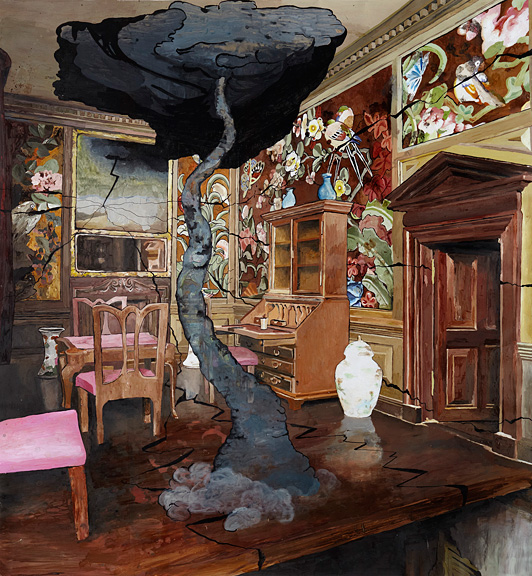 Mie Mørkeberg: U.t. 2009, acrylic and Indian Ink on paper, 130 x 120 cm

Mie Mørkeberg's solo exhibition Afterwards at Galleri Tom Christoffersen deals with the strongly asserted and the unsaid. The artist has used actual dollhouses and other miniature models of the homely as point of departure for her works on paper. The new body of works carry violent and humoristic narratives.

The domestic settings resemble a Biedermeier horror – a tension between stagnation and chaos. And as forces of nature and symbolic powers is set free in the apparently idyllic interiors the cracks in the facades become evident. The artist's use of small-scaled, artificial worlds as inspiration gives the closed rooms a sense of set pieces in intense psychological dramas – and at the same time the pictures are left unpleasantly open to ones own fantasy.



Mie Mørkeberg (1980) graduated from the Royal Danish Academy of Fine Arts in 2006. Currently the artist participates in the grou exhibition "Kontrapunkt", Esbjerg Kunstmuseum, Esbjerg (2009). A selection of both solo and group shows are:: "Drama Queens" (solo), Traneudstillingen, Gentofte (2008). "This Was Now – The Russel Herron Collection", Sartorial Contemporary Art, London (2009), Frelst Fiktion. Museet For Religiøs Kunst, Lemvig (2009). "Homeward Unbound " (solo), Galleri Tom Christoffersen (2007). "Match Race", Nordjyllands Kunstmuseum, Aalborg (2007). "Fora - andre fortællinger fra det uvisse", Randers Kunstmuseum (2007). "Tales from the Uncertain", Galleri Tom Christoffersen (2006). In 2008 Mie Mørkeberg' conducted her first public commission, seven panels the kindergarten Børnehuset Nyelandsgården, Frederiksberg was inaugurated.




Selected works from the exhibition