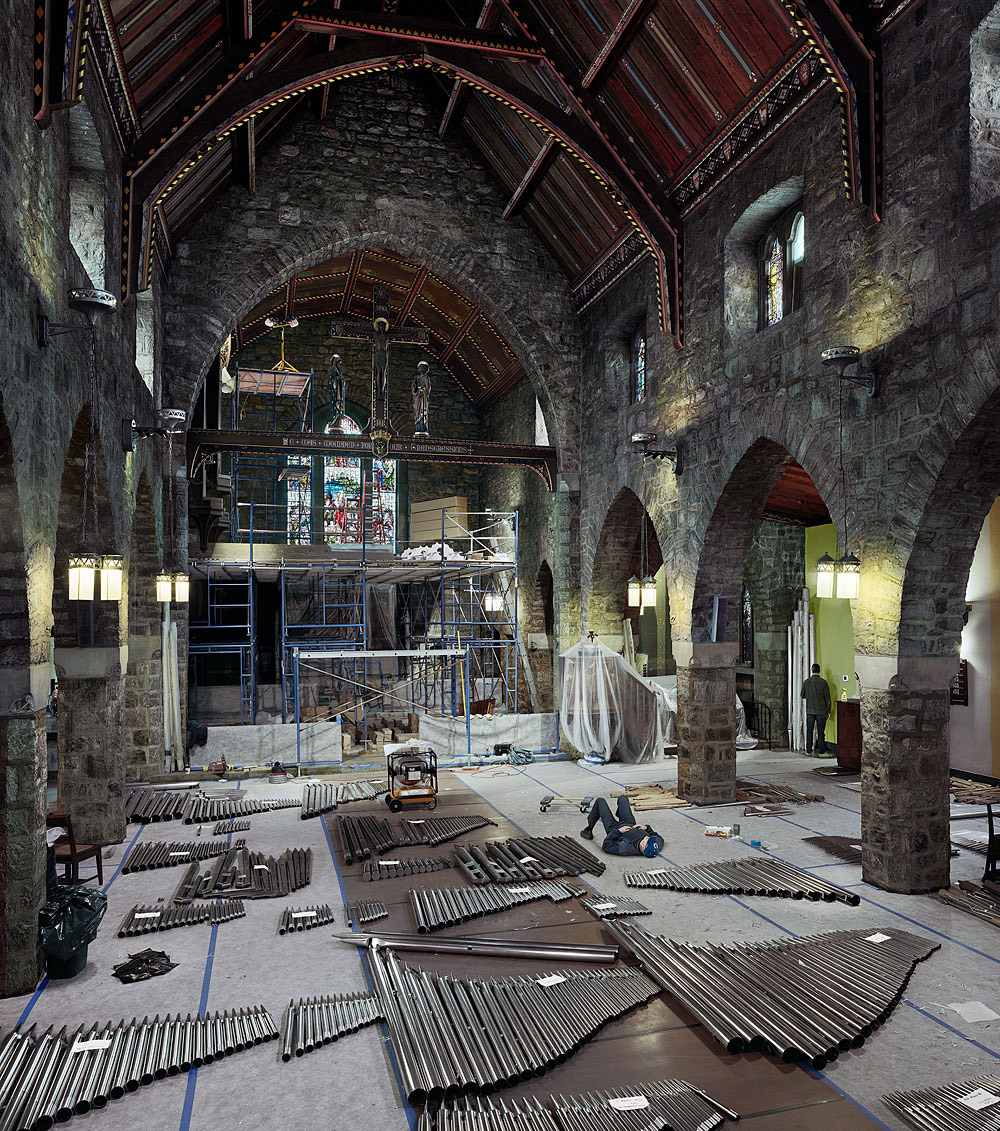 Thomas Bangsted: Christ Church. 2009-2012, Chromogenic Print, 207.5 x 181.9 cm, ed 3/3
NOCTURNES
In this, the second solo exhibition at Galleri Tom Christoffersen, Thomas Bangsted continues to probe the delicate line between constructing a picture and capturing the world. Produced to a large scale, the works present for the first time black and white photographs paired with a single monumental photograph in color.
Collectively, these pictures continue Bangsted's preoccupation with time, history, and the landscape by way of treating the photograph as a layered composition. Each picture is aggregated from multiple negatives captured at the same location over a period of time that can vary from the course of a day and up to several months.
In the exhibition three eerie night landscapes render darkness visible by means of combining photographic exposures made both at high noon and at night, thus creating otherwise impossible nightly visions. The assembly of a church pipe organ is depicted in the exhibition's large color work. The photograph is amassed from numerous exposures taken during the five-month long installation period. The ship functioning as the focal point for the narrative has previously been seen in Thomas Bangsted's work. In the last work of the exhibition an emblematic and camouflaged battleship has been resurrected by interweaving shoots of contrasting tonalities, imagining a quiet moment in history.
Differentiating stylistically, the works represent different points in Thomas Bangsted's production. While expanding upon the repertoire of creative processes and the degree of built-in labor, this exhaustive process remains, as ever, subtly concealed within each photograph. Setting the mood, the presence is felt that under the surface something is not as it appears.
Danish born Thomas Bangsted (1976/DK) lives and works in New York. He received an MFA from Yale University, School of Art in 2007 and degrees from Goldsmiths College, London in 2005 and Glasgow School of Art in 2004. Recent solo shows include MARC STRAUS, New York (US/2012), and Galleri Tom Christoffersen (2010). Group exhibitions include; Hudson Valley Center for Contemporary Art (US/2012), The Bronx Museum of the Arts (US/2011), Gl. Holtegaard (2010), Danziger Projects (US/2010), and The Prague Biennial (2009). The Danish Arts Council has purchased works from the artist. Thomas Bangsted is represented by MARC STRAUS, New York (US) and Galleri Tom Christoffersen.