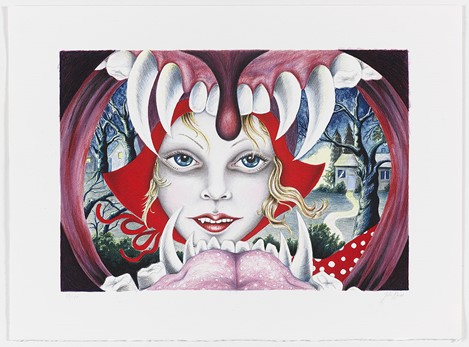 Red Ridinghood, 2008, 50 x 68 cm, Original lithography printed at Edition Copenhagen
Collected Graphic Works
Julie Nord
11.2 - 5.3.2016
Opening: Thursday 11.2. 2016, 5-8pm
For english press release please click here.
Click here to see list of all works 
På galleriets første soloudstilling med Julie Nord præsenteres for første gang hendes samlede grafiske arbejder fra 2001-2015. Udstillingen bliver et tværsnit gennem de temaer og genrer Julie Nords værker har kredset omkring i årenes løb. Fra det surreelle til det populærkulturelle, over det sentimentale til det dystre. Igennem værker med omdrejningspunkter fra eventyr og børnebogsillustrationer til tatoveringer, automattegning og familiealbum. Alle værker med det formelle fokus omkring Julie Nords velkendte samspil mellem figuration og ornamentik.
Julie Nords grafiske produktion er fortsat kontinuerligt gennem hendes karriere sideløbende med originalværkernes tilblivelse. Det grafiske arbejde kræver klare og bevidste valg, modsat originaltegningens mere åbne spillerum, og derved bliver de at se som præcise opsummeringer af hele Nords oeuvre. En slags hovedoverskrifter for de allerede mange skrevne kapitler i hendes værkkatalog.
Det er oftest med litografiet, stentrykket Julie Nord har arbejdet. Tilblivelsesprocessens krav om, at mange beslutninger tages forud, gør hun til en konstruktiv udfordring, og værkets klare ide vokser frem igennem udførslens rent formelle spilleregler. Modsat arbejdet med originalens skitsefølsomhed, og den hele tiden søgende proces deri, lægges fokus i grafikken hos Julie Nord på de mere formelle aspekter såsom farvevalg og komposition. De grafiske billeder udstråler en skarphed og sikkerhed i udtrykket, og de står som en række klare, koncise statements på denne uformelle retrospektive præsentation.
Julie Nord har arbejdet med sin grafiske produktion hos Edition Copenhagen, kobbertrykker Mette Marot og Hostrup- Pedersen og Johansen.


Julie Nord (f.1970) har haft soloudstillinger på flere danske kunstmuseer såsom ARoS Aarhus Kunsmuseum, Gl Strand, Kbh. og Kunsten – Museum for moderne kunst, Aalborg. Hun har udstillet internationalt flere steder, og er lige nu er hun aktuel på gruppeudstillingen "Down By The River" på Teckningsmuseet i Laholm, Sverige. Hendes værker er i samlingerne på danske museer som Statens Museum for Kunst, Aros, Arken m.fl. og internationalt på bl.a. Det Nordiske Akvarel Museum, Sverige, Lyonel Feininger, Museum, Tyskland og Biblioteque Nationale de France, Frankrig. Fra 1994-2001 blev Julie Nord uddannet på Det Kgl. Danske Kunstakademi, København.